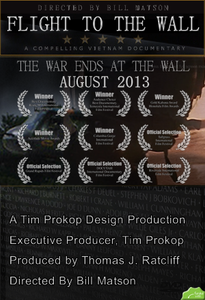 Flight To the Wall is the story about a group of Vietnam veterans and the Wings and Rotors Museum teaming up to restore and fly two Vietnam era Huey helicopters and a Kiowa for a risky flight. A 6000 mile round trip flight from Southern California to Washington DC with the hopes of flying over the Vietnam Memorial Wall on Memorial Day to honor those Vets that did not make it home. Their fuels tanks allow them to only go about 100 miles between fuel stops. Sometimes less when flying into headwinds. Thus they must schedule many stops along the way. In the cities and towns they stop at, they invite Vietnam vets from that area to visit the restored helicopters. Many vets break into tears upon seeing and hearing the Huey helicopter's familiar 'whomp, whomp' sound as they land and memories of long ago rush back to their consciousness. Many recount Vietnam experiences for the camera that they haven't talked about in four decades, not even to their families. Some veterans traveling with the group also recount how PTSD began to haunt their lives. 
A LONG JOURNEY
During the long journey, one of the Hueys breaks down in Clinton, Oklahoma and its ability to make it to DC becomes questionable. The remaining Huey and Kiowa fly on to keep the schedule for the veterans who wish to see them along the way. They make it in Washington, DC by the Memorial Day weekend. Upon arriving, their request to fly over the Wall is rejected by the government due to safety concerns. They are told the helicopters they are flying are considered 'Experimental' by the government, even though they had been used and depended upon to transport thousands of our troops to and from the battlefield in the most extreme conditions. Shaking off their disappointment, they do what they came to do. They honor their fallen comrades and in some cases their friends whose names are enshrined on the Wall.
The film also features the Rolling Thunder and Run For the Wall's motorcycle parade through the capitol. The parade is filmed from the back of a motorcycle. 
On the return trip home one of the veterans who has been diagnosed with failing kidneys due to Agent Orange and is about to retire from the army, pilots a Huey for the last time into his home town amidst tears. The veterans and Wings and Rotors Museum finally make it back to their home base in California after the 22 day trip. Along the way one of the Hueys goes down in Arizona.
AWARDS
This film won numerous awards at film festivals including Best Documentary at the Route 66 International Film Festival, Audience Choice for Best Documentary at the Temecula International Film Festival, the Gold Kahuna at the Honolulu Film Awards, to name some of the awards.