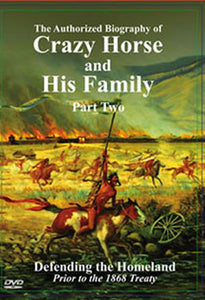 Authorized Biography Of Crazy Horse And His Family:  Part 2 (DVD)
PART TWO: "DEFENDING THE HOMELAND (PRIOR TO THE 1868 TREATY)."
The Crazy Horse family discusses the Oregon Trail, the Grattan Fight, and Crazy Horse's hemblecha (visionquest). The story of how he received the stone from the medicine man Horn Chips to put behind the HORSE's ear, the first time he killed an enemy, the Platte River Bridge Fight and Battle of Red Buttes, December 6, 1866 battle near Fort Phil Kearney, the Fetterman Fight, the Wagon Box Fight, and the story of his relationships with Black Buffalo Woman and Black Shawl are also featured. Park Rangers, Educators, and Museum Curators from Fort Laramie National Historic Site, Fort Caspar Museum, Fort Phil Kearney State Historical Site, and Crazy Horse Memorial give the military side of the above stories and added reference to some of the things Crazy Horse did not participate in but that had a direct influence on him and the Lakota people such as the 1854 and 1868 Treaties, the 1866 treaty attempt by the government, and the Fleming Fight of 1853.