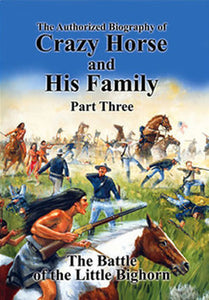 Authorized Biography Of Crazy Horse And His Family: Part 3
PART THREE: THE BATTLE OF THE LITTLE BIGHORN begins with the birth of Crazy Horse's young daughter and ends with the final shot of the Battle of the Little Bighorn. This DVD is packed with Crazy Horse family member's oral history about Crazy Horse and the Battle of the Little Bighorn that is being told for the first time outside the family.

The elder Crazy Horse's grandsons discuss and reveal Crazy Horse's carving on a huge owl-shaped rock showing the carved vision of his death. The family also tells how the Lakota and Cheyenne acquired the guns and ammunition used in the battle. Accounts of courageous family members who fought in the battle along with those stories about those that went back to the agency are also included.

In addition, Chief Historian John Doerner and Chief of Interpretation Ken Woody of the Little Bighorn Battlefield National Monument augment the Crazy Horse family's oral history with an analysis of government and military strategies during this defining moment in history.

A version, protected for four generations, sheds new light on the battle and is responsible for producing some significant additions at the Little Bighorn Battlefield.

93 minutes.